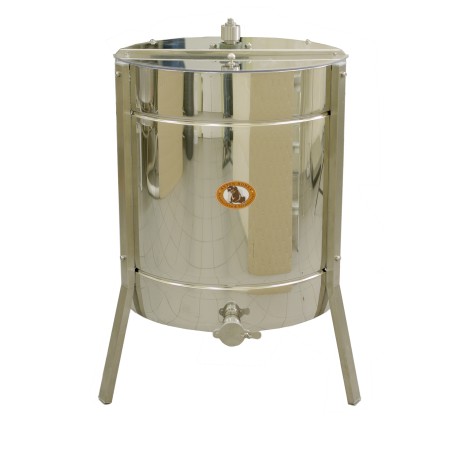  
Portable honey extractor EVA-1
Portable honey extractor for hobby beekeepers - the device does not require electrical connection and works with a cordless drill.
NB! The device does not come with a battery drill!
The portable honey extractor EVA1 is intended for use by beginners or advanced beekeepers.
The honey extractor is compact and light. As a result, it is possible to use the device in different environments depending on the needs of the beekeeper.
The portable honey extractor does not require to be connected to the mains. Works with cordless drills and can be connected to eny types of cordless drills. An M17 drill chuck is required (included). During the rotation, it is possible to boost up the spin speed if necessary.
Frames suitable for the device: Lågnormal, Langstroth, Farrar, Dadant.
For other frame types please contact us
Technical specifications
• All types of cordless drills are suitable for work
• M17 hexagon cartridge for connecting the drill and the device
• Stainless steel valve tap with seal 1 ¼
• Adjustable legs range 50mm
• Cover PMMA cover
• Freewheel bearing
• Fixable legs
• Weight 30kg
DEVICE DIMENSIONS:
• Diameter 590mm
• Container height 650mm
• Container height on legs 950mm
• Valve height from floor 300mm (adjustable in 50mm range)
Suitable frames
• Estonian frame: 448x270x25 / 4pcs
• Lågnormal: 4pcs
• Langstroth frame: 480x235x35 / 4pcs
• Farrar frame: 480x160x35 / 8pcs
• Estonian half frame: 8 pcs
• Dadant half frame: 8 pcs
• Dadant full frame: 4pcs