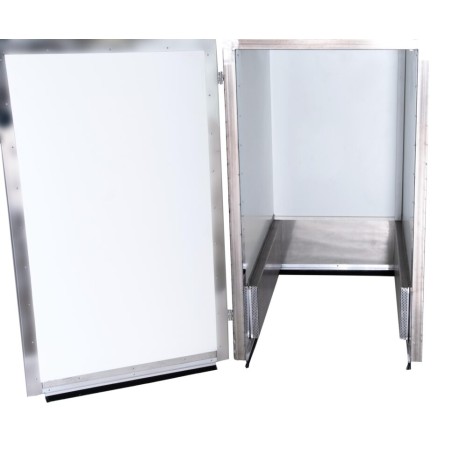  
Honey heating cabinet Mini
A small honey heating cabinet - a cabinet that fits through every door!
The honey heating cabinet is intended for heating / melting honey from a solid state to a liquid state.
The sides of the device are made of insulated panels to ensure even thermal insulation.
Device color is white and the edges are covered with stainless steel corners.
The honey heating cabinet has 4 wheels and is without a bottom and the lower edges are covered with bristles.
A fan is attached to the rear inner wall of the heating cabinet, which ensures even circulation of warm air inside the cabinet.
The result is an even melting of the honey.
Technical specifications
• Power supply 230V
• Power cord length 3m.
• Controller ESM-3711-HN
• PT100 heat sensor
• Heating up to 55c.
• Weight 60kg
• Heater: 2x300W
• Fan
• Insulated walls
• Insulation thickness 40mm
CAPACITY IN THE DEVICE:
• 200L barrels / 1pc
• 120L barrels / 2pcs
• 40L bucket / 4pcs
• 20L bucket / 6pcs
DEVICE DIMENSIONS:
• Internal dimensions: Width 510x depth 990x height 1100mm
• External dimensions: Width 670x length 1110x height 1150mm